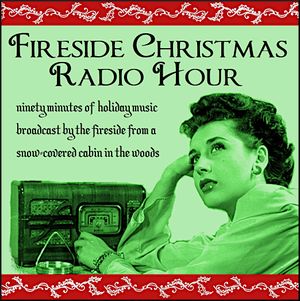 The snow is softly falling here at my snow-covered cabin in the woods in a mystery location in Northern Ontario as I chop wood and hand-pick my favourite Christmas, hoilday and winter music to share with you on my annual "Fireside" Christmas Radio Hour.  I always look forward to wishing you all a Merry Christmas over the radio and internet airwaves, and you can tune in from anywhere in the world - even the North Pole!  This year is extra special as four great community stations will be airing the show!  Here's the full schedule on where and when you can tune in:
CHRW - Sunday, December 20th at 8:00pm on 94.9fm in London or www.radiowestern.ca 
CJAM - Christmas Eve, Thursday December 24 at 2:30pm and Christmas Day Friday, December 25 at 6:30pm on 99.1fm in Windsor/Detroit or www.cjam.ca 
MIDTOWN RADIO - Christmas Eve, Thursday December 24th at 9:00pm and Christmas Day Friday, December 25th at 3:00pm on www.midtownradio.ca 
CKWR - Christmas Day Morning 9:00am on 98.5fm in Kitchener/Waterloo or on www.ckwr.ca
Tune in for 90 minutes of Christmas music featuring jazz, folk, country, bluegrass, pop, indie-rock; classics and brand new songs with lots of Canadian songwriters.  As always - a Mariah-Carey-Free zone.  
I had a busy fall working with Kitchener's Festival Of Neighbourhoods on their annual celebration, this year happening online.  Check out some fun neighbourhood interview videos I put together as I explore my new hometown on - https://www.facebook.com/FONKitchener.  Hard to believe I've been in town for a half-year already!
The episode of Music From Windecker road featuring myself and Will Gilliespie  is airing on Eastlink Cable this month as one of 6 Tuesday night episodes; check out the promo video: https://www.facebook.com/windeckerroadfilms/videos/1445269612349581
And I was also part of an online video birthday tribute to my friend and musical mentor David Essig! 
Wishing you all the best for this very different holiday season, and looking forward to more adventures as we jump into 2021 !
Merry merry merry, Allison