July is on the horizon and as restrictions are starting to ease here in Ontario, I'm taking a big step and finally going ahead with my plan to move up to Kitchener! I found an amazing place all to myself right downtown at a comfortable price... so I'll miss the hot Southern Ontario summers and the Lake Erie swims, but I'm looking forward to a new start... so, if you have any projects or covid-safe work I can help you out with, give me a shout! I do house-cleaning and dog walking, paint jobs and garden work among my many superpowers. 
A few things coming up before I make my big move!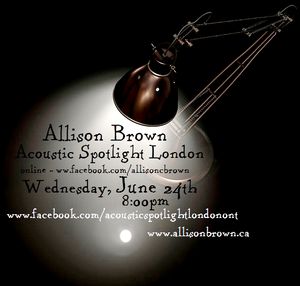 Wednesday, June 24th at 8:00pm I'm playing a 45 minute or so set live on Acoustic Spotlight London Online; continuing the long-standing weekly house concert series.  You can tune in on my Facebook page - https://www.facebook.com/allisoncbrown or on Acoustic Spotlight London's FB Page -  https://www.facebook.com/acousticspotlightlondonont
Sunday, June 28th, I'm playing my first post-pandemic live show as a social distanced backyard house concert with a very small invite list.  Private party, part of the Stone & Sky series.  
Wednesday, July 1st I'm playing as part of Amherstburg's Oh Canada! Virtual Canada Day celebration with a 20 minute set of all-Canadian songs live at 3:00pm on the Visit Amherstburg FB page - https://www.facebook.com/events/1139913363023810/
I made a short mini-film to promote the event - check it out!
Did a few more Trailer Videos as part of the "Drinking Alone" Series:
Episode Three - All Originals: https://www.facebook.com/allisoncbrown/videos/10158178010701023
Episode Four: https://www.facebook.com/allisoncbrown/videos/10158204192121023
Hope you're all staying safe and healthy as we settle into this strange summer without festival weekends and touring adventures... and looking forward to my exciting next chapter in Kitchener - see you there or online!
Allison