Howdy Folks! June is sliding away and I've been back in Canada's Deep South in Essex County enjoying bike rides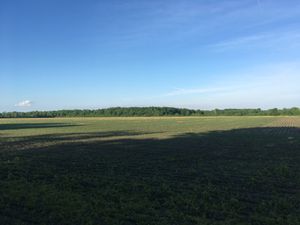 on the Greenway, ice cream in Amherstburg, and gardening at the farm.  I'm excited to get out on some summer rambles up to Elphin, Ontario for Old School Bluegrass Camp, with a stopover in London for a special Garden Concert in Byron!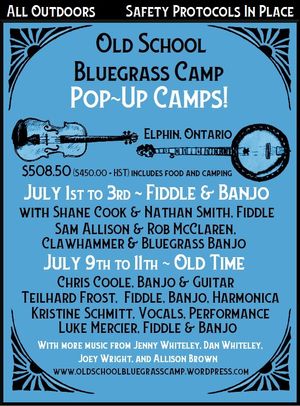 Old School Bluegrass Camp returns with it's Sixth season, the third of which I'll be along as Camp Director Jenny Whiteley's Camp Assistant.  They've added TWO new Pop-Up Camps dedicated to Fiddle & Banjo and Old Time Music bookending the full week of camp.  Spots are still available at the two 3-day camps, and spots in Guitar and Upright Bass are still available for the full week.  Check out https://oldschoolbluegrasscamp.wordpress.com/ for all the details and sign-up information! I'll be hosting the open-mic, giving the famous 'morning announcements' and hanging out at all the jams... will be awesome to see you there and share music this July!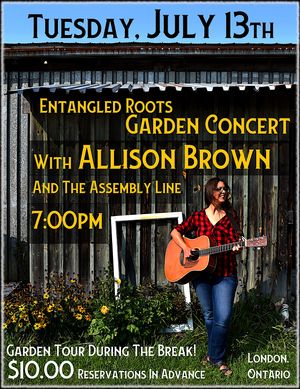 Tuesday, July 13th brings me to London, for my first show since Labour Day at Call The Office! The Entangled Roots Garden Concert takes place in Byron, 7:00pm to 9:00pm and includes a permaculture garden tour.  I'll be playing a few songs solo and then be re-united with Jedd House (Upright Bass) and Dan Henshall (Mandolin) as The Assembly Line for the second set. Reservations are $10 - and as numbers are very limited, as of today there is only one ticket left! Tickets online at: https://entangledroots.ca/product/garden-concert/  If you can't make it, I'll be back in London in early August, if you or anyone you know might be interested in hosting an outdoor concert, just get in touch! 
A while back, I posted a new video for "Currents Collide", which was part of Graeme Bachiu's 'Music From Windecker Road'  TV Show airing on Eastlink Cable! The full show features a brand new song co-written with Will Gillespie that we wrote while being filmed!! Have a look and listen here: https://youtu.be/i0PpgUxuNPE 
Happy Summer Everyone and remember it goes by fast - hit the beach, have that ice cream... excited to be out to play and hear live music again! 
Allison