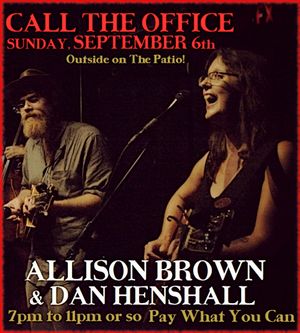 Hello folks... it's been a strange and different summer with lots of new things cookin'..! I've had a lovely, quiet summer easing into my new home town here in Kitchener, meeting new friends while staying safe and socially distanced in this bittersweet summer.. really missing gigs and festivals, so now that things are slowly re-opening I've got some gigs in the works! 
Coming up Sunday, September 6th I'm re-uniting with Dan Henshall for an outdoor patio gig at the legendary Call The Office in London!  We start at 7pm and will go till about 11pm or so, Pay What You Can! Stay tuned for details on some surprise special guests! Check it out on Facebook: https://www.facebook.com/events/1214249732286669/
Then I'm off to Old School Songwriting Camp September 11th to 13th - the fine folks at Old School Bluegrass Camp are hosting two weekend songwriting workshop camps with Juno-winning songwriter David Francey! I'll be on deck as Camp Assistant to Camp Director Jenny Whiteley, hosting song circles and campfire jams and even maybe writing a new song myself! Check it out at https://oldschoolbluegrasscamp.wordpress.com/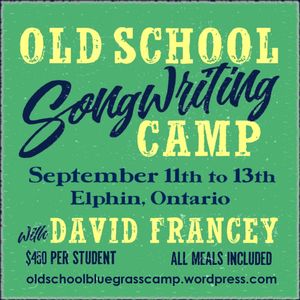 As we slide into deep September, I'll be playing my first gig in Kitchener since moving to town at the Schneider Creek "Walk Around Our Hood Festival" on Saturday, September 19th... stay tuned for time, and for whose beautiful front porch I'll be singing from at this fun music, art and community event! https://www.facebook.com/events/769727983839406/  
I also have a brand new video of Bob Dylan's "One More Cup Of Coffee" along with my violin-playing pal Alison Corbett!  
And earlier in August, I did another episode in my "Drinking Alone" isolation live video series, this time from my new place and featuring my electric guitar! Watch it here: https://www.facebook.com/allisoncbrown/videos/10158355953551023/  
Also been still looking for regular work, taking on all kinds of projects and ramping up my Housekeeping Services... I have a few clients I've been cleaning for but I'm looking for a few more - Don't Let Housework Get You Down!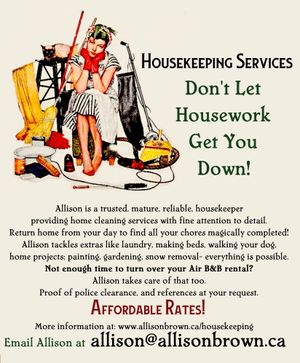 Hope to see some of you London pals at Call The Office on September 6th and make sure to make the most of the late summer days still ahead!
Allison