Happy Winter...!  Been in hibernation mode and cozying in here in Kitchener, watching the snowy scenes from the top of Cedar Hill...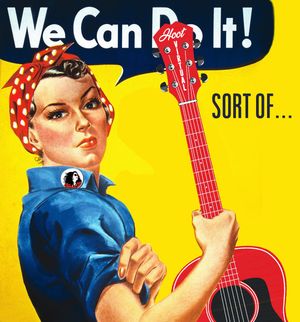 A few virtual gigs coming up... I'll be back on Carolyn Mark's amazing virtual Hootenanny on Sunday, February 7th (My Birthday "Eve")... stay tuned to the SHOWS page for the link to watch online, I'll be playing a 3 song set.  Carolyn hosts the Hootenanny every Sunday night, and has been going strong since the early days of the pandemic - features all-star guests from across the country and around the world! Starts at 4:20pm Victoria time, 7:20pm Ontario time!
And on February 17th, I'll be back on Acoustic Spotlight - London's long running Wednesday night house concert series that has gone virtual..!  Tune in to the opening set by host Jake Levesque at 6:30pm and then I'll take the virtual stage at 7:00pm for about a 40 minute set of covers and a few originals.  Tune in at my facebook page https://www.facebook.com/allisoncbrown or https://www.facebook.com/acousticspotlightlondonont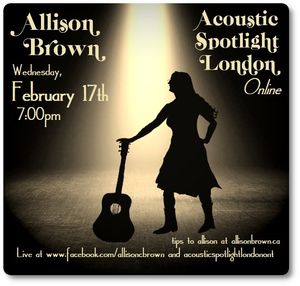 I'm looking ahead at spring and summer performances - so if you're hosting an outdoor house concert, mini-festival or anywhere you think you'd like to have me sing a few songs, get in touch at allison@allisonbrown.ca   And - I'm revving up my work search for jobs and projects.. let me know how my many superpowers can help you - check out my resume here!
Stay safe and cozy out there and tune in for some virtual shows coming up in February!
Allison