Hi Folks! June was a whirlwind of fun; worked for the Ontario Election, re-painted my Bedroom/World Headquarters, made some music videos at 14th Coffee Co. out in the wilds of Essex County, played a great House Concert in Walkerville, did some cat-sitting in South Windsor and did a bit of reporting for the Harrow News!  
BIG NEWS! I know you've been eagerly waiting for some new music from me; this summer I'll be recording four surprise cover songs at The Sugar Shack studio in London, Ontario.  I'm contributing $1000.00 of my own money towards the project but I'll need your help to make these recordings sound amazing. 
I'm asking for One Thousand Dollars from you, my friends and fans to help contribute towards this project.   
I'm not printing CDs for this project, and the recordings will be available on digital streaming platforms, will be played on radio stations, and will be downloadable from my website.  You can find out how to contribute and what fabulous gifts are available with your generous donation at the GO FUND ME: www.gofundme.com/f/allison-brown-four-song-recording-project and you can check out the video here: https://youtu.be/OsZDjZDNumY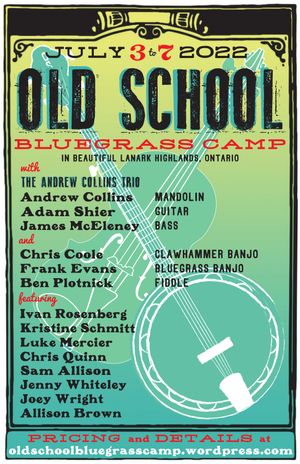 I'm headed off to beautiful Lanark County for Old School Bluegrass and Fiddle & Banjo Camps to work as Jenny Whiteley's Camp Assistant - can't wait for this summer highlight of music and friends! Find out more at https://oldschoolbluegrasscamp.wordpress.com/ 
And, on Saturday, July 23rd, I'm back in Kitchener for a show at The Falls Road Pub with Ally Corbett and Grady Caplin!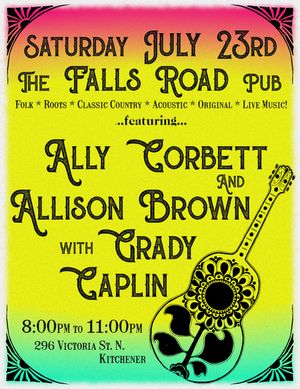 And I round off a busy July with two gigs back in the deep Ontario South, I'll be at Kingsville's Open Streets on Saturday, July 30th and Amherstburg's Music In The Park on July 31st! 
Exciting times as the summer gets into full swing - stay tuned for more gigs in London in August!
Thanks so much for helping me out with the Go Fund Me towards my first recording project since 2018! 
Allison