Howdy Folks! July flew by with adventures at Old School Bluegrass Camp, some cat-sitting time in Kitchener, beach days at Turkey Point and wrapped up the month with a weekend of gigs in Kingsville and Amherstburg! Huge thanks to everyone who contributed to my Go Fund Me towards my summer recording project coming up soon while I'm in London in August, as of today I'm only $30 away from reaching my goal of $1000.00! 
https://www.gofundme.com/f/allison-brown-four-song-recording-project if you'd still like to contribute or give the video a share!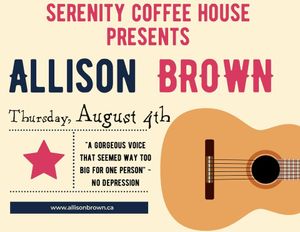 Kicking off August with two shows around home; Thursday, August 4th I'll be at Serenity Coffee House in Ford City Windsor for a one hour solo set at 8:00pm, PWYC.  https://www.facebook.com/events/561476792114639.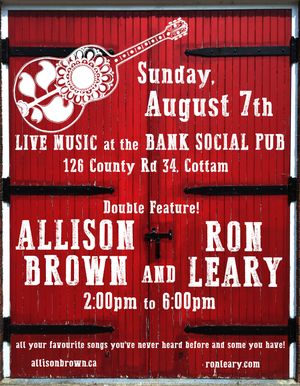 Sunday, August 7th I'll be in downtown Cottam for an afternoon of music on the patio (weather permitting) at The Bank Social Pub swapping sets of songs with Ron Leary! August 12th to 14th weekend I'm hosting stages at Kingsville's Greenway Jam!  Later on in August, I head up to London for a "Re-Assembly" tour of two shows with The Assembly Line (Jedd House, bass and Dan Henshall, mandolin plus guests!) Sunday, August 21st we're at The London Brewing Co-Op from 1 to 3pm and Saturday, August 27th we're back at the glorious Richmond Tavern from 4pm to 7pm! Looking forward to a fantastic August of music, see you there! Allison