September has slipped away into glorious October with the crisp weather and colour changes in Southwest Ontario... My late summer adventures included new videos; some for my CJAM Instagram Takeover for CJAM 99.1fm, and this one filmed in Belle River along with my great pal Alison Nicholl of an old song "Tomorrow Night":
I recorded a few other videos for Neil Young's "One Of These Days" and Bill Poss' "Star Motel" which you can find on my new IGTV (Instagram TV) Channel: https://www.instagram.com/allisonbrownmusicandmore/channel/
Labour Day weekend I had a relaxing camp-out in Wheatley Provincial Park... always a favourite spot for beach lounging after a busy summer!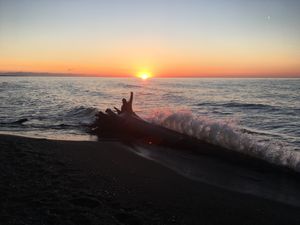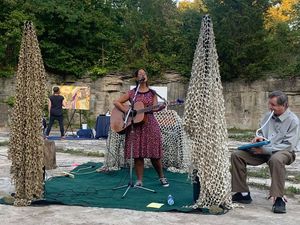 I also spent a week out on Pelee Island as part of the Stone & Sky Artists' Residency series, where I performed a concert in the historic stone Quarry Amphitheatre along with visual artist Tina Newlove and electronic musician Christina Sealey, was another inspiring time out on Pelee Island! 
Fall brings me to stops in Kitchener to catch up with friends; and working on setting up a show in London in early November, so stay tuned! 
Getting tons of House and Pet Sitting Bookings for the fall, winter and into the spring of 2022...If you need someone to take care of your home and pets while you're out on adventures, be sure to get in touch soon! I can do shorter or longer term live-in house and pet-sitting in Essex County or for stays longer than a week anywhere in Ontario in urban or suburban settings... https://allisonbrown.ca/house-pet-sitting
I'm also working to assist my musician friends with administrative work, including grant writing! Four out of five projects I worked on this year so far have been awarded funding! https://allisonbrown.ca/writing-administration - get in touch if you have a project I can help you work on!
See you out there in the fall colours!
Allison