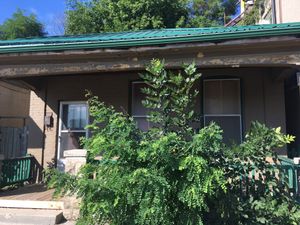 Howdy Folks! September has rolled in and I'm taking it easy for a few weeks after a fun, whirlwind summer with tons of musical adventures.  I'm over the moon with how the recording sessions went in August at The Sugar Shack  in London with the creative and highly skilled Simon Larochette at the studio controls and with an all-star cast of stellar session musicians! We recorded FIVE covers after all, as I surpassed my $1000.00 goal with my Go Fund Me Fundraiser - thanks so much to everyone who made a contribution, you'll be amazed at how these songs turned out... for sure different from my previous recordings but with my signature sound at the heart of this fun project.  Stay tuned for release details coming soon!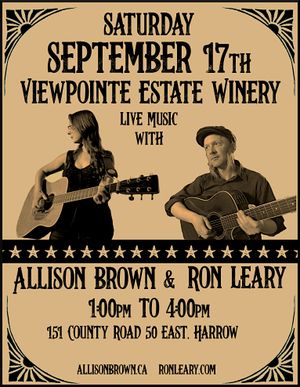 Coming up in September; I'm teaming up with Ron Leary for an afternoon of song swapping at Viewpointe Estate Winery on Saturday, September 17th from 1:00pm to 4:00pm, join us for wine and songs on the Lake Erie shoreline in the lovely mid-September weather!
As September rolls out, I'll be the last feature musician for the Monday Night Mixer series at Kingsville's Pelee Island Winery  on Monday, September 26th from 6:00pm to 9:00pm... I'll be joined by Dan Henshall on Mandolin!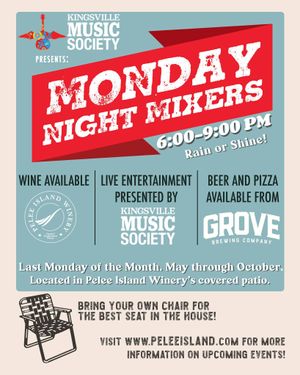 Bring a lawn chair!
Autumn brings me to more pet-sitting adventures in Tecumseh and Amherstburg, if you have a vacation coming up and need house and pet-sitting services, be in touch as my fall and winter is booking up fast!   https://allisonbrown.ca/house-pet-sitting      
And - soon I'll be starting to take orders for my annual Christmas Card fundraiser, if you'd like a batch of cards this year, for sure give me a heads up on what you'd like! 
Looking forward to a lovely autumn and to these two winery performances in deep Ontario South to roll in the crisp weather!
Allison